Ann O. Sperry, Ph.D.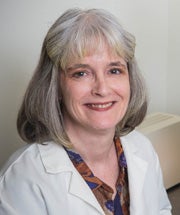 Professor
office: Brody 7N-59A
phone: 252-744-2841
email: sperrya@ecu.edu
B.S., Texas A&M University
Ph.D., Rice University
Postdoctoral Fellow, University of Texas Southwestern Medical Center
---
Research
Studies in our laboratory are focused on how the cell's cytoskeleton changes during growth and differentiation. We utilize mammalian spermatogenesis as a model system to understand how molecular motors and regulatory proteins participate in the dramatic morphological changes that occur as the round male germ cell precursor cell transforms into the highly polar sperm.
During spermatogenesis, the microtubule cytoskeleton rearranges to form the mitotic and meiotic spindles as well as forming the sperm flagella, essential for sperm motility and therefore for fertility. The molecular mechanisms responsible for these dramatic transformations are not well understood. We have identified a protein associated with the basal body, from which the flagellum is generated, as a regulator of the central phosphatase Protein Phosphatase 1 (PP1). We hypothesize that this regulatory protein is important in biogenesis of the flagella through its activation of PP1. We are currently characterizing the signaling pathway regulating the formation of the flagella in sperm and sensory cilia in cultured cells, a structure analogous to flagella.
---
Selected Publications
Johnson, M.L., R. Wang, and A.O. Sperry. 2018. Novel localization of Aurora A kinase in mouse testis suggests multiple roles in spermatogenesis. Biochem. Biophys. Res.Commun. 503(1): 51-55. PMID: 29842884.
Devaul, N., K. Kouloustrobolis, R. Wang, and A.O. Sperry. 2017. A novel interaction between kinase activities in regulation of cilia formation. BMC Cell Biol. 18(1): 33. PMID: 29141582.
DeVaul, N. R. Wang, and A.O. Sperry. 2013. PPP1R42, a PP1 binding protein, regulates centrosome dynamics in ARPE-19 cells. Biol Cell. 105:359-71.
Sperry, A.O. 2012. The dynamic cytoskeleton of the developing male germ cell. Biol. Cell 104: 297-305.
Wang, R. and A.O. Sperry. 2011. PP1 forms an active complex with TLRR (lrrc67), a putative PP1 regulatory subunit, during the early stages of spermiogenesis in mice. PLoS ONE 6:e21767.
Wang, R., A. Kaul, and A.O. Sperry. 2010. TLRR (lrrc67) interacts with PP1 and is associated with a cytoskeletal complex in the testis (PDF). Biol. Cell. 102:173-189.
Wang, R., and A.O. Sperry. 2008. Identification of a novel leucine-rich repeat protein and candidate PP1 regulatory subunit expressed in developing spermatids (PDF). BMC Cell Biol. 9:9.
Sickles, D.W., A.O. Sperry, A. Testino, and M. Friedman. 2007. Acrylamide effects on kinesin-related proteins of the mitotic/meiotic spindle (PDF). Toxicol. Appl. Pharmacol. 22: 111-121.
Nath, S., E. Bananis, S. Sarkar, J.W. Murray, R.J. Stockert, A.O. Sperry, and A.W. Wolkoff. 2007. Kif5B and Kifc1 interact and are required for motility and fission of early endocytic vesicles in mouse liver (PDF). Mol. Biol. Cell 18: 1839-1849.
Yang, W.-X., H. Jefferson, and A.O. Sperry. 2006. The molecular motor KIFC1 associates with a complex containing nucleoporin NUP62 that is regulated during development and by the small GTPase RAN (PDF). Biol. Reprod. 74: 684-690.
Zhang, Y. and A.O. Sperry. 2004. Comparative analysis of two C-terminal kinesin motor proteins: KIFC1 and KIFC5A (PDF). Cell Motil. Cytoskeleton 58:213-230.
Yang, W.-X., and A.O. Sperry. 2003. C-Terminal kinesin motor KIFC1 participates in acrosome biogenesis and vesicle transport (PDF). Biol. Reprod. 69:1719-1729.
Zou, Y., C.F. Millette, and A.O. Sperry. 2002. KRP3A and KRP3B: candidate motors for spermatid maturation in the seminiferous epithelium (PDF). Biol. Reprod. 66: 843-855.
Navolanic, P.M. and A.O. Sperry. 2000. Identification of isoforms of a mitotic motor in mammalian spermatogenesis (PDF). Biol. Reprod. 62: 1360-1369.
Sperry, A.O., and L.-P.Zhao. 1996. Kinesin-related proteins in the mammalian testes: candidate motors for meiosis and morphogenesis (PDF). Mol. Biol. Cell 7: 289-305.
View PubMed Publications for further listings
---
Current Funding
"Protein Phosphatase-1: A Molecular Switch for Centrosome Fate in Spermatogenesis"; Ann O. Sperry, Principal Investigator; National Institute of Child Health and Human Development; 5/10/2014-4/30/2017.
---
Staff and Students
Location: 7N-59 and 7N-90
---
Former Students and Post-Doctoral Fellows
| Name | Title | Location |
| --- | --- | --- |
| Alan-Michael Bresch, Ph.D. | Scientist I | BioAgilytix, Durham, NC |
| Nicole Devaul, Ph.D. | Assistant Professor | The George Washington University School of Medicine and Health Sciences, Washington, DC |
| Marquita Johnson, Ph.D. | Document Reviewer II | Pharmaceutical Associates Inc., Greenville, SC |
| Kristjan Thompson, Ph.D. | Associate Professor | Department of Biomedical Sciences, School of Medicine, Mercer University, Savannah, GA |
| Wan-Xi Yang, Ph.D. | Associate Professor | College of Life Sciences, Zhejiang University, Hanzhou, China |
| Yuguo Zhang, Ph.D. | | Raleigh, NC |