Taylor Johnson, Ph.D.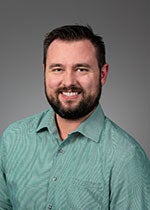 Teaching Assistant Professor
Office: Brody 7N-74
Phone: 252-744-2856
Email: johnsontaylo22@ecu.edu
B.S., Southeastern University
M.S., University of Central Florida
M.S., University of Central Florida
Ph.D., East Carolina University
---
Teaching
I serve as the course director and teach in Clinical Gross Anatomy for physician assistant students. I also teach in courses for medical students and Ph.D. students (e.g., Gross Anatomy and Embryology, Histology) as well as the Health Professions Gross Anatomy course for doctorate in physical therapy and doctorate in nursing practice students. I have previously taught in various anatomy-centric and cell biology-centric courses.
---
Research
The common threads of my research are stem cell biology and requirements for normal cellular function. My current research explores the requirements of germ cell maturation during spermatogenesis – the stem cell-based system responsible for ensuring decades of sperm production. Central themes include the requirement of retinoic acid (RA) in spermatogenesis and morphological changes of germ cells during spermatogenesis. Findings from this work could be used to help improve male fertility (a critical need, considering one in seven couples worldwide is infertile) or impede male fertility (a contraceptive). This work is done in collaboration with faculty here at ECU.
Previously, my research focused on cellular approaches to enhance tissue repair and combat long-term effects of muscle toxicity and remodeling. Collectively, my work has been published in well-respected journals such as Development, PLoS Genetics, Biology of Reproduction, and AJP-Heart and Circulation.
---
Selected Publications
Johnson TA, Niedenberger BA, Kirsanov O, Harrington EV, Malachowski T, Geyer CB. Differential responsiveness of spermatogonia to retinoic acid dictates precocious differentiation but not meiotic entry during steady-state spermatogenesis. 2023. Biol Reprod. PMID: 36708226.
Kirsanov O, Johnson TA, Malachowski T, Niedenberger BA, Gilbert EA, Bhowmick D, Ozdinler PH, Gray DA, Fisher-Wellman K, Hermann BP, Geyer CB. Modeling mammalian spermatogonial differentiation and meiotic initiation in vitro. 2022. Development. PMID: 36250451.
Peart NJ, Johnson TA, Lee S, Sears MJ, Yang F, Quesnel-Vallières M, Feng H, Recinos Y, Barash Y, Zhang C, Hermann BP, Wang PJ, Geyer CB, Carstens RP. The germ cell-specific RNA binding protein RBM46 is essential for spermatogonial differentiation in mice. 2022. PLoS Genet. PMID: 36129965.
Lester WC, Johnson TA, Hale B, Serra N, Elgart B, Wang R, Geyer CB, and Sperry AO. Aurora A Kinase (AURKA) is required for male germline maintenance and regulates sperm motility in the mouse. 2021. Biol Reprod. PMID: 34518881.
Kirsanov O, Renegar RH, Busada JT, Serra ND, Harrington EV, Johnson TA, and Geyer CB. The rapamycin analog Everolimus reversibly impairs male germ cell differentiation and fertility in the mouse. 2020. Biol Reprod. PMID: 32716476.
Singla DK, Johnson TA, and Dargani ZT. Exosome Treatment Enhances Anti-Inflammatory M2 Macrophages and Reduces Inflammation-Induced Pyroptosis in Doxorubicin-Induced Cardiomyopathy. 2019. Cells. PMID: 31600901.
Johnson TA and Singla DK. PTEN inhibitor VO-OHpic attenuates inflammatory M1 macrophages and cardiac remodeling in doxorubicin-induced cardiomyopathy. 2018. Am J Physiol Heart Circ Physiol. PMID: 30095997.
Johnson TA and Singla DK. Breast cancer drug trastuzumab induces cardiac toxicity: evaluation of human epidermal growth factor receptor 2 as a potential diagnostic and prognostic markers. 2018. Can J Physiol Pharmacol. PMID: 29842793.
Dargani ZT, Singla R, Johnson TA, Kukreja R, and Singla DK. Exosomes derived from embryonic stem cells inhibit doxorubicin and inflammation-induced pyroptosis in muscle cells. Can J Physiol Pharmacol. 2018. PMID: 28926719.
Johnson TA and Singla DK. Therapeutic Application of Adult Stem Cells in the Heart. 2017. Methods Mol Biol. PMID: 28229422.