Cheryl B. Knudson, Ph.D.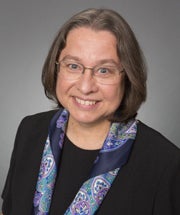 Professor Emerita
Chair, Department of Anatomy and Cell Biology (3/2006 – 12/2019)
email: knudsonc@ecu.edu
B.A., Pomona College
Ph.D., University of Southern California
Postdoctoral Fellow, Tufts University School of Medicine
---
Reviews
Knudson, W., S. Ishizuka, K. Terabe, E.B. Askew, and C.B. Knudson. 2019. The pericellular hyaluronan of articular chondrocytes. Matrix Biol. 78-79: 32-46. PMID: 29425696.
Knudson, W. and C.B. Knudson. 2005. The hyaluronan receptor, CD44 – An update. Glycoforum – Hyaluronan Today.
Knudson, C.B. 2003. Hyaluronan and CD44: Strategic players for cell-matrix interactions during chondrogenesis and matrix assembly. Birth Defects Research Part C: Embryo Today 69: 174-196.
Knudson, C.B. and W. Knudson. 2001. Cartilage proteoglycans. Seminars in Cell & Developmental Biology 12: 69-78.
Knudson, C.B. and W. Knudson. 1993. Hyaluronan binding proteins in development, tissue homeostasis and disease. FASEB J. 7: 1233-1241
---
Former Students and Post-Doctoral Fellows
| Name | Title | Location |
| --- | --- | --- |
| Dean J. Aguiar, Ph.D. | Program Director | The Hartwell Foundation, Memphis, TN |
| Roma A. Andhare, Ph.D. | | |
| Ankit Desai, M.D. | Associate Professor | Section of Cardiology, College of Medicine, University of Illinois at Chicago, Chicago, IL |
| Stanca Iacob, Ph.D., M.D. | Research Associate | Comprehensive Transplant Center, Department of Surgery, Northwestern University, Chicago, IL |
| Na Luo, Ph.D. | Assistant Professor | Nankai University School of Medicine, Tianjin, PR China |
| Michael P. Maleski, Ph.D. | | Deceased |
| Ghada A. Nofal, Ph.D. | Pharmacist | Chicago, IL |
| Maiko Ohno-Nakahara, Ph.D., D.D.S. | Dentist | Kobe, Japan |
| Pedram Pouryazdanparast, M.D. | Clinical Associate Professor | Department of Dermatology, Feinberg School of Medicine, Northwestern University, Chicago, IL |
| Eka A. Rapava, Ph.D. | Professor Emerita | Department of Biochemistry, Tbilisi State Medical University, Tbilisi, Georgia |
| Kathleen T. Rousche, Ph.D. | Program Director | Office of Translational Alliances and Coordination, Division of Extramural Research Activities, National Heart, Lung and Blood Institute, Bethesda, MD |
| Samantha Sellers, Ph.D. | Physician Assistant | UNC Lenoir Health Care Emergency Department, Kinston, NC |